Plastic C-Cards: Yesterday's News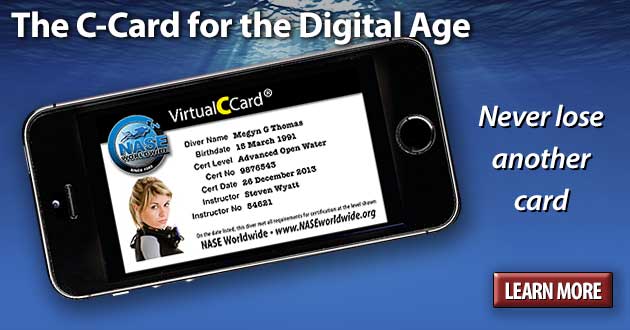 Consider the drawbacks of a traditional plastic certification card:
To start, you generally have to wait for several weeks following certification before you finally get it. In the meantime, you have to get by with a cheesy paper "temporary" card you hope will last long enough.
Once you get your plastic card, you have to hope you don't damage or lose it.
If your plastic card is any more than a few years old, the photo is most likely out of date.
As divers, we're supposed to be environmentally responsible — yet plastic cards represent almost as much of a waste of natural resources as paper textbooks.
Now NASE has eliminated the delays, risks and waste with its exclusive VirturalCcard®.
No need to wait days, weeks or months. As soon as you are done with training, your NASE Instructor can issue your VirtualCcard with the click of a mouse of the tap of a finger. All you have to do is log into your NASE eLearning account and download your VirtualCcard to your favorite smartphone and mobile devices.
Never worry about losing your card; it's always instantly available.
Want a more up-to-date photo? Just log into your eLearning account and upload a new one. It will be instantly reflected in your card.
And don't worry about being environmentally responsible. Your VirtualCcard requires only a few electrons — not precious trees or dead dinosaurs.
VirtualCcards are available for all NASE courses. We can still issue a plastic card if you want but, seriously, why embrace outdated, costly and wasteful technology?